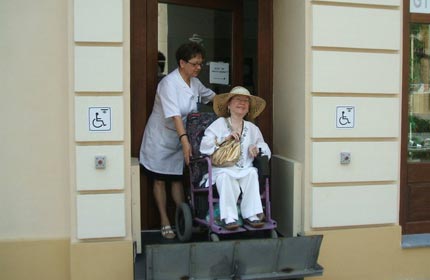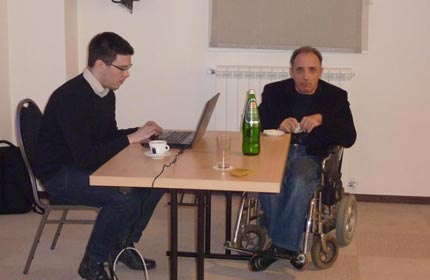 Education and consultation
One of the most important characteristic of CIL work is education for empowerment of persons with disabilities and awareness raising on the status and rights of persons with disabilities.
Working on the its network of local branches in Serbia, CIL started to work on training the trainers, persons with disabilities, CIL members, who will successfully train other persons with disabilities, local partners, authorities, media representatives, teachers etc., furtherone.
From September 2001 until May 2002 with the support of Team Tri, from the Civic Initiatives, CIL organised the training of its activists. The aim of the training was to enable them to gain the skills of professional trainers/facilitators in area of Raising awareness on problems of persons with disabilities. Nine persons with disabilities successfully finished the training.
In the meantime the training programme was widened with the other topics: international and national documents, language of disability and philosophy of independent living.
Center started cooperation with other NGOs, local and international, social institutions, schools, authorities, who engaged CIL trainers on education on disability issues.
Galerija...
Today, CIL trainers work independently or in cooperation with other trainer teams. Beside the education on awareness raising CIL trainers are involved in training on public relations and campaigning.
Number of trainers was additionally educated for couselling and consultative work with organisations of persons with disabilities (project writing, project development, project implementation, monitoring and evaluation of the projects). Go to SHARE SEE...
SHARE-SEE...
CIL trainers facilitate over than 600 seminars and workshops in more than 30 towns in Serbia.
Along with publishing, this has contributed to the efforts to empower persons with disabilities and for them to become more active participants in advocating their rights.