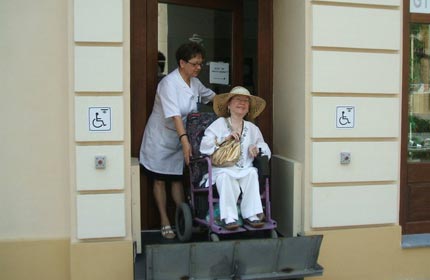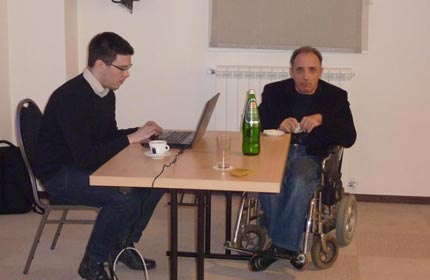 The project "Capacity Building of Disabled People's Organisations", is based on a grant agreement with the European Commission (DG Enlargement) and it is financed from the EU CARDS Regional Programme 2003 Democratic Stabilisation – Local Civil Society Development. It started in March 2005 and lasts for 18 months, until September 2006.
The project is targeted at non governmental organisations of disabled people to strengthen their capacity and to improve cooperation through the establishment of local and national cross-disability councils, as well as a Balkan co-ordinating structure for NGOs in the disability field
The CARDS countries covered by the project are: Albania, Bosnia and Herzegovina, Croatia, FYR Macedonia and Serbia and Montenegro
The specific objective of the project is to strengthen the capacity of non-governmental organisations of disabled people throughout the CARDS region, providing them with support so that they are better able to promote the rights and interest of people with disabilities and effectively address issues of discrimination.
MAIN ACTIVITIES
1 Project management
Overall responsibility for the management of the project rests with EDF, with general support and specific tasks the responsibility of the project partners. The project manager and seven EU coordinators based in the region (Gordana Rajkov from Center for Independent Living Serbia is coordinator for Seerbia and Montenegro), will carry out the day-to-day implementation of the project. In this main activity it is included the steering committee meetings, the preparation of work programme and the project reporting
2 Fact-finding visits
In the first phase of the project EDF will carry out a series of detailed fact-finding visits to all CARDS countries and regions to meet with relevant disability actors and assess priorities. The aim is to complete the fact-finding visits within the first three months of the project.
3 Capacity building work
The central focus of the project is to increase the capacity of organisations of disabled people. This aspect of the project will therefore command most of the project's time and resources. In addition to the activities described in this section, the capacity of disability organisations will also be strengthened as a result of the training and information activities of the project.
In order to create an environment in which NGOs can be successful in promoting the rights and interests of people with disabilities, it is necessary to improve the degree of cooperation and partnership between different disability organisations.
Many sub-activities will take place in this area such as cross-disability task forces, creation of local and national cross-disability councils where they do not yet exist, strengthening existing cross-disability councils and, finally, creation of a cross-disability coordinating structure for disability NGOs at Balkan level
4 Training
Training requirements have been identified based on EDF's experience of the situation in the central and east European Accession Countries, as part of the EDF Phare capacity building project. Training will be provided on the following issues:
- national council related matters; the benefits of tackling discrimination from a cross-disability perspective
- the rights based approach to disability; EU, Council of Europe and UN non-discrimination & disability laws, conventions and policies;
- lobbying and advocacy skills, including issues of representation and civil dialogue;
- media and communications skills;
- basic management skills for operating a non-governmental organisation, including funding issues and long term NGO development planning.
5 Information
An important component of the project, closely related to successful capacity building and training work, is the provision of information and documentation to representatives of NGOs. Detailed information about issues related to the work of cross-disability councils in EU and Accession Countries will be provided. At the same time disabled people's organisations will be given information about EU law, policy and decision making procedures and international best practices in the disability field, including relevant Council of Europe and United Nations conventions.
6 Dialogue and networking
The project will build-up networks and dialogue between NGOs at local level, between NGOs within a country; between NGOs from different CARDS countries; and between NGOs in the region and similar organisations in Member States and Accession Countries. The support provided to the disability movement in CARDS countries will include preparing organisations for their active involvement in international, and in particular, European disability networks.
7 Conferences, seminars and study visits
A number of important conferences, seminars and study visits will take place as part of the project, closely related to the project components described above. They will be organised in such a way as to provide training to participants on the priority disability issues described before.
The following activities are foreseen in this area: start-of-project conference, 7 EU information seminars, workshops on cross-disability council issues, workshop to discuss the results of the cross-disability task forces and to promote the creation of a Balkan coordinating structure for NGOs in the disability field, study visits to other CARDS countries for NGO representatives - Task Force Coordinators meeting and end-of-project conference
EXPECTED RESULTS
The impact which the project will have on organisations of disabled people includes:
- a stronger and more cohesive disability movement, composed of both strong local and national disability organisations;
- an increased understanding of the rights-based approach to disability and an increased capacity to promote actions based on this approach;
- an increased understanding of international human rights instruments (e.g. Council of Europe, United Nations) protecting disabled people and how to use them;
- an increased understanding of general EU law and policy in the disability field and a better understanding of the impact and benefits thereof;
- a better understanding of specific EU legislation, such as Article 13 promoting non-discrimination measures, the Framework Employment Directive, etc.;
- acquiring tools and skills to monitor and report on human rights abuses faced by disabled people;
- better advocacy, lobbying and media/communication skills;
- disabled people and their organisations recognised by public authorities as key stakeholders and structured consultation with representative disability organisations becomes common practice;
- a greater ability to reach out to new allies and stakeholders and stimulate their interest in and support for disability issues;
- a greater awareness of the requirements of marginalised groups of disabled people (e.g. women, people with multiple or severe disabilities; disabled people from ethnic/national minorities) and a greater ability to develop and promote policies which take their requirements into account;
- familiarity with how disability organisations in other transition countries are able to operate effectively with rather low levels of financial support;
- an increased awareness within the regional disability movement regarding the challenges and opportunities that it faces and how best to respond to them.
Overall, therefore, as a result of the project the disability organisations will have an increased understanding of the rights-based approach to disability and an increased capacity to promote policies based on this approach. The Madrid Declaration, a political document promoted by EDF in the preparation for 2003 as the European Year of People with Disabilities, will be a key guiding document in this sense.
Development of law and policy in the disability field
A key policy outcome of the project should be increased pressure in each country to adopt comprehensive anti-discrimination legislation on the grounds of disability, according to international best practices and standards. Within the EU, EDF and its national members have this as a key political objective and they have very extensive campaign and support documents on this issue which will be beneficial to the disability organisations in the CARDS countries. No other legislative initiative has more potential to produce the paradigm shift in disability policies which is needed in the region.
Increasing the policy and advocacy skills of disability organisations and promoting the unity of the disability movement to campaign for such legislation is a key expected result of the project.
Strengthening civil society
In increasing the capacity of representative organisations of disabled people, the project will have a direct impact strengthening civil society at local and national level throughout the region.
Any cross-disability umbrella organisations which are established will become the driving force of the demands of disabled people in their regions and countries. The impact on public authorities will be that, from a situation in which they had to consult with many different impairment-specific organisations, they will now be able to speak with one organisation - which will be harder to ignore or avoid - and which is able to present to the public authorities the views of all groups of disabled people.
Disability networks at local, national and international (European) levels
With the creation of cross-disability councils at local, national and Balkan level, organisations of disabled people will be better able to establish contacts with similar organisations in their own region and country, as well as in neighbouring countries.
Raising public awareness of disability
Furthermore their role as project partners will confer upon them a degree of leadership and responsibility that should prove invaluable to their development as NGOs and their standing vis-à-vis other parties and in particular the public authorities in their country.