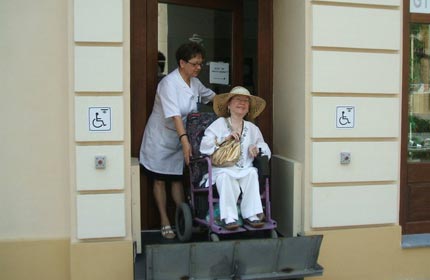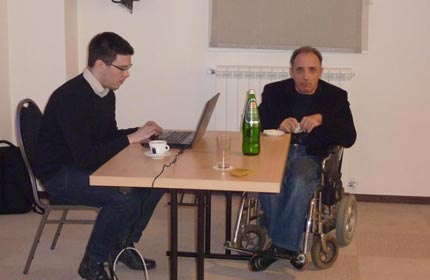 The sky's the limit for disabled athletes in Serbia
29/12/2009 By Nikola Barbutov for Southeast European Times in Belgrade
An organisation in Serbia is bringing out the best in the country's disabled athletes.
The Disabled Athletic Association of Serbia, which had about 15,000 members, is on a mission to keep handicapped athletes in the country active. "Sporting results are not the primary goal, the goal is rather to include as many disabled people as possible in all events, instead of having them just sit at home...
Our aim is to increase the number of our members, who now account for around 2% of disabled people," Dusan Moracanin, head of the Disabled Athletic Association of Serbia told SETimes. He added that in order to achieve that goal, the association needs more funding. "We are financed by the Sports and Youth Ministry and the Labour and Social Policy Ministry, but those funds are sufficient only for some basic costs and activities. We are unable to develop and offer something new.
Working with disabled people requires a whole team that includes a psychologist… we are unable to hire that kind of personnel," said Moracanin. The disabled in Serbia compete at the state and international levels in chess, shooting, fishing, swimming, table tennis and wheelchair basketball, and also participate in recreational activities such as mountain climbing, sailing and weightlifting. According to Moracanin, sporting activities are a great way for disabled people to boost their self-esteem -- especially mountain climbing.
"When you reach the top, it feels fantastic to look around and realise what you've gone through. You've made it," he said. The association started hosting mountain climbing events about three years ago in association with two mountaineering clubs -- Pobeda and Avala.
Milanka Arsic, who recently opened her own mountaineering club called Balkan, described a climb up Bobotov Kuk, a peak in northern Montenegro, where disabled climbers reached the summit. "It was extremely difficult. It was unreal, phenomenal, impossible -- but we did it," she told SETimes.
Pobeda guide Zoran Kovljenic was overjoyed that the disabled mountaineers accomplished what some "healthy" folks could not. The mountaineering groups plan to branch out and climb peaks in neighbouring countries, such as Mount Olympus in Greece and Mount Rila in Bulgaria.
30.12.2009
All news:
FREEDOM DRIVE
New ENIL EC member from Serbia
Center for Independent Living Serbia OSI at the Serbia-EU Forum
FREEDOM DRIVE 2011
DPI Europe
STUDY VISIT TO SLOVENIA
Step by step to the project
International Day of Persons with Disabilities, 3 December 2011
The right for work for PWDs
Development of Nis municipalities
A Place for Us
"The steps on the path of development" project
DISABLED TO KEEP FIGHTING FOR BETTER EU AIR SERVICES
Capacity building of CSOs for social services
Study visit to Budapest
CIL Serbia celebrated 15 years of work
Second seminar in Mataruska banja
Disability Convention Receives 100th Ratification
ROUND TABLE
Workers With Disabilities: An Untapped Resource
PRO LIBRIS
A PLACE FOR US
Law for social protection
TRIBUNE "EDUCATION FOR ALL"
PLACE FOR US
Kampaign for Inclusive Education
EU RATIFIED CRPD
Good finish of 2010
THE BEST POSSIBLE NEW YEAR WISH COME TRUE
Advocacy for PA service in Novi Beograd
Comissioner for equality protection
International Day of Persons with Disability
Summer School
Public transport in Belgrade
REGIONAL ROUND TABLE DEBATE
The Invisibles: disabled people in Britain
Organisations of Civil Society as service providers in social protection area
Mexico in Debt to the Disabled
Fourth workshop on CRPD
SERBIAN CANDIDATE IN UN COMMITTEE
Virtual Career and Education Day expands regionally!
Center for employment of persons with disability
LEGAL HELP TO FAMILIES OF CHILDREN WITH DISABILITY
New initiative in Bor
CIL Activities
Promotion of project "Support to independent living of persons with disability in Serbia"
Special Advisor for International Disability Rights
Third workshop on monitoring and implementation CRPD in Serbia
Second workshop on monitoring and implementation CRPD in Serbia
Educating Students with Disabilities: Some Say It's Not Worth It
Workshop on monitoring and implementation CRPD in Serbia
HUMAN CAMERA
INFORMATION BULLETIN - European Court of Human Rights upholds the right to vote of persons with disabilities
European Call for Protest: Inclusion - "Being there from the start"! 05 May, 2010
European Day of Solidarity between Generations, 29 April 2010 - ENIL
Rights and reality: disabled people's experiences of accessing goods and services
ENIL calls for an end to Death by Social Indifference
Four more countries ratify CRPD
Disability Awareness in Action Newsletter
SEMINAR IN NIKSIC, MONTENEGRO
CIL in Belgrade too
We have our lives back
JOBS FOR ALL
MD persons continue hunger strike
Call for 140 financial support for 140 students with disability
Council of Europe calls for deinstitutionalisation of children with disabilities
NOTHING ABOUT US WITHOUT US: THE EUROPEAN PARLIAMENT DRIVES FORWARD DISABILITY RIGHTS
"Incredible stories of invisible lives" exhibition in Uzice
Draft of Law on Social Protection
30 years United Nations Convention on the Elimination of All Forms of Discrimination against Women
Opening Conference of the European Year for Combating Poverty and Social Exclusion,
The sky's the limit for disabled athletes in Serbia
CRPD Ratifications reach 76
Round table "Development the advocacy capacities of organisations of persons with disability in Serbia"
With Parthership Towards Development
FREE OUR PEOPLE NOW!
COMMEMORATING THE INTERNATIONAL DAY FOR THE ELIMINATION OF VIOLENCE AGAINST WOMEN
Center for Disease Control and Prevention, USA
Persons with disability in politic life everywhere
ENIL has 777 members in Facebook
Disability and policy
"Love and Kindness" Fund
New ratifications
Women with disability
"A Midnight Summer Dream"
Court Cases filed in the Name of Persons with Disability
Freedom Drive 2009 - Demands
INFORMATION FOR PEOPLE WITH DISABILITIES ABOUT H1N1 VIRUS
My world has changed – two stories in one
European Citizen Award
Not just a pretty Facebook
First deaf Member of Parliament is sworn in
Letter to Prime Minister Cvetkovic
PA Service in Leskovac too
International Day of Persons with Disabilities - 3 December 2009
MIDWAY
New TV broadcast
Malta: MOTE - My Opinion My Vote
Access to persons with disability
"CLOSER TOGETHER" PROJECT
SERBIA RATIFIED UN CONVENTION
Court case dealing with UN COnvention in Germany
Europe Day
Convention sign-ups
WHY SHOULD EUROPE INCREASE THE MATERNITY LEAVE?
Learning disability genes found
Poland: Disabled People Excluded from EU Elections
International Autism Day
Coucil for persons with disability
My right to be healthy
NEW RATIFICATION
International Day of Rare Diseases
PERSONAL ASSISTANCE BILLS
Disability Equality: Promoting Positive Attitudes
SERVICE IN JAGODINA
White House launched a new website today and disability issues are highlighted under the Agenda heading
Conference on Cooperation for Improvement of Disability Policy in Serbia
Workshhop on CRPD
First Committee of Experts on Disability Rights Convention Elected
GREAT SUPPORT TO ANTONIJEVIC FAMILY
Parking for everyone
Electoral rights for PWDs in Albania
Petition
The ways of integration
Finding a College That Suits Students "With Special Needs"
Another silver medal for Serbia
Paralympic silver
The Annual march for Disabled Visibility in Madrid
Good Practise/Bad Practice
UN Convention on the Rights of Persons with Disabilities (CRPD)
Free our People!
All... but not retard.
European Day of Disabled People 2008
Parents' fury at 'Down's Syndrome dolls'
Eurobarometer on discrimination
Less sex, less fun
Coming Soon, a Braille Silver Dollar
Roads to integration
Disability proves no barrier to Olympic inclusion
Media and Disability
Media and disability
Bishop
Are there any changes in preparations for Paraolympics?
U.N Issues Stamps to Commemorate Disability Treaty
Beijing 'sorry' for offending disabled
Government unveils new package for disabled children
China Sets Gold Standard in Offending Disabled
Smederevo Coalition
Way to Independence
On Empowerment
Assistive Technologies
Press Conference
Wishes could come true
Seminar on reforms of social protection system
National Conference on Gender Equality
Mobility International Seeks Young Adults
Wal-Mart settles with applicant with disability [USA]
First Contestant with a Disability to Compete for Miss USA Title
INFO - CENTER
INACCESSIBILITY IS DISCRIMINATION!
UN Convention on PWDs rights
Conference on National strategy for Youth
Bits and pieces from Slovenija
Meeting with Bozidar Djelic
Focus group "Social services for PWDs"
SHARE SEE Grantee Training
Make a date
It's Okay to Stare... Then Engage a Question!
Sombor hosted workshop "sex, gender, disability"
Dancing Beyond Disability
Seminar HUMAN BEING AND ITS ENVIRONMENT
Project From Alternative to Standardisation
The regional group of experts in social service provision for people with disabilities
Youth Regional conference
Are we going to Europe?
Disability Guide to Disneyland Paris
POI Conference "From cause to the result: New approaches towards disability"
Open Letter to the Government, Members of National Assembly Competent Institutions and Policy Makers
Centre plan for disabled actors
An Autistic Dream
MEETING ON DISABILITY ISSUES IN SERBIA
A PARAGIDM SHIFT FROM 'CHARITY' TO 'RIGHTS AND DIGNITY'
Transport benefits
New Visa rules
Disabled rights champion honoured
Map of the World
Serbia is going to sign UN CRPD
WORKSHOP IN CAIRO
Seminar on Women with Disabilities
Adaptation of living environment for Persons with Disabilities
Program "Contact Organisations from the Civil Society"
Community Living for Disabled People Must Be Made a Priority
Celebrating 3rd December
Celebrating the 3rd December 2007
FILM FESTIVAL OBSERVING 3 DECEMBER
National Umbrella Organisation mark 3rd of December
ENDING OF SHARE SEE TRAINING PROGRAM
SHARE SEE IV MODULE – NISKA BANJA
IMPORTANT DAYS TO CELEBRATE
To Ministry of Labor and Social Policy
SHARE SEE training in Predejane
Recognising the Rights of Girls and Women with Disabilities
SHARE SEE IV MODULE IN SMEDEREVO
Creation the Local Plans of Actions in Disability Area
SHARE SEE IV MODULE – BELGRADE
TODAY IS THE DAY OF UN
Goodbye mouse hello voice controls
Elena Pecaric
Award
AWARENESS RISING