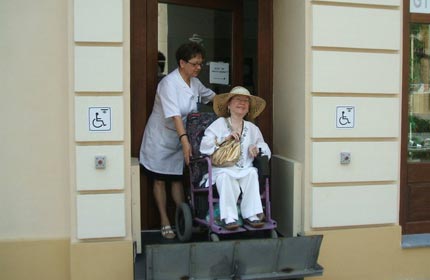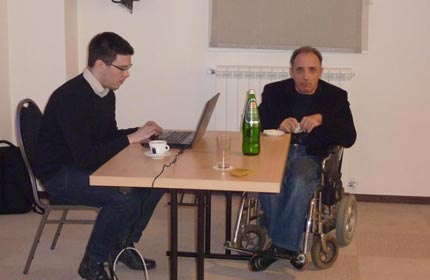 Parents' fury at 'Down's Syndrome dolls'
Parents' fury at 'Down's Syndrome dolls' designed to help children deal with disability
Lorejn Fišer
7. juli 2008.
At a distance, it may seem to be an ordinary, if a little old-fashioned, doll. But look up close and you will see that it is, in fact, quite unusual.
The protruding tongue, almond-shaped eyes, flattened nose and low ears all make it very different to most shop-bought toys. So do the small mouth, short fingers and the horizontal crease across the palm of the hands.
This is a Down's syndrome doll which has been designed with the characteristics of children born with the condition.
It's one of an increasingly popular — but hugely controversial — range of dolls with different disabilities produced to give youngsters with health problems a toy with which they can identify.
The manufacturers claim such dolls, which are finding a growing market in Britain, help 'normalise' conditions like Down's syndrome so young sufferers don't feel so different from their friends. They even say such dolls may help make disabled people more accepted by society.
Controversial: Disabled dolls, like this one with Down's syndrome, are popular
Children undergoing cancer treatment can get 'chemo' dolls which are bald and come complete with headscarves. Others are available with hearing aids, glasses, guide dogs, wheelchairs, crutches and leg braces.
Many parents of disabled children have welcomed the dolls as a realistic alternative to the physical perfection of the Baby Annabells already on the market.
Others, however, dismiss them as a sick joke. In fact, their detractors believe they only emphasise a disabled child's differences to their able-bodied friends.
Civil servant Sue Farren, from Durham, whose daughter Rebecca has cerebral palsy and has to use a wheelchair, is horrified by the very idea. She says: 'To me, creating disabled dolls like these and giving them to a child pigeon-holes the disabled and turns them into something akin to a freak show. It seems as if the disability is being highlighted here, whereas most disabled kids just want to blend in and be accepted for who they are — Rebecca doesn't even like her disability being referred to.
'Also, it worries me that able-bodied children might treat these dolls as a figure of fun. Life is difficult enough as a disabled child, as Rebecca will testify, without this unwelcome attention.'
Her daughter was 13 months' old when doctors diagnosed cerebral palsy, but it hasn't held her back. Sue, 50, says: 'Rebecca is 14 now — a very bright girl who is in mainstream school, taking eight GCSEs, and is predicted to do well and hopefully go on to university. She likes to feel there is very little she cannot do, and I think that to have given her a doll when she was younger which highlighted her disability could have knocked her confidence.
Inspiration: Disabled children feel more part of society, the makers claim
'Growing up with her disability was hard work — even going to stay at a friend's house was difficult, as she needs help in a home which isn't adapted for the purpose, as ours is.
'Her aim is to lead a fully independent life, and I think to have given her a doll in a wheelchair would only have reinforced a painful self-image.'
Social worker Alison Wellemin's daughter Sarah is one of the 60,000 people living in the UK with Down's syndrome.Alison, 51, from North London, has huge doubts about the benefits of disabled toys. 'When Sarah was six, her mainstream primary school bought a Down's syndrome doll with the best of intentions,' she says. 'But I thought it was horrible and even overheard a teacher referring to it as "peculiar".
'Far from educating others about children with Down's syndrome, these dolls single children like Sarah out and stereotype them just because they have the condition. They are totally one-dimensional — they can't show that a child with Down's syndrome can be funny, bright and articulate.
'Terrifying': One parent said the dolls only serve to 'single out' disability
SARAH is now 16. Her mother says: 'She has just sat four GCSEs, and recently enjoyed their end-of-year school prom on a boat on the Thames. She didn't gain such acceptance through having unrealistic props like Down's syndrome dolls. Her friends treat Sarah as just another person because she's always integrated with other children. 'Integration is the key to normalising Down's syndrome rather than drawing unnecessary attention to it through dolls.'
But there's no doubt there is a growing demand for them. When Mattel launched Becky, a friend of Barbie, in a bright pink wheelchair, it sold out in a fortnight.
East Sussex-based company kidslikeme.co.uk also saw the potential for catering for overlooked minority groups. They've launched ranges of black and Asian dolls as well as ones wearing hearing aids, glasses and leg braces with accompanying guide dogs and wheelchairs.
Until now, dolls with Down's syndrome have not been made in the UK and have only been available over the internet. That seems likely to change.
Donna Moore, from South Carolina, set up downicreations.com 12 years ago and is currently in talks with British stores to stock her products. As a former special needs teacher, she says she felt there was a real need for them. 'Children with Down's syndrome didn't have anything to identify with. They carry around baby dolls that don't look anything like them.
'The children realise they are not the same and they want something to identify with, like all children.' WHEN teaching, Donna, who has three sons, became friends with a young boy called Tim, now 24, who has Down's syndrome. He helped inspire her.
Education: Many experts believe dolls like this can help all children learn
'When he came to stay with us, he had an ugly little girl's doll, so I told him I was making him a new one,' she says. 'I visited manufacturers and found an artist. I took him pictures of children with Down's syndrome I knew and we worked on them until we got it right.'
Each of her £90 dolls has the 13 indications of the condition, such as small ears and a flattened nose, as well as a mark on the chest to indicate the scars of the heart surgery most Down's syndrome sufferers undergo as they are often born with defects. Donna, who runs her company as a not-for-profit charity, denies her dolls harm rather than help disabled children. 'I can count the negative comments I've had on one hand,' she says. 'Otherwise it's been overwhelming approval.
'For a child, seeing themselves and having something they can identify with is so important. Our society today is hung up on perfection and when a child with Down's syndrome picks up a regular doll, they don't see themselves. I've heard so many people say "They don't know the difference", but they do. We are not trying to promote the difference, we are trying to promote their beauty and let them know they may have different features, but inside they are still the same. They have the same hopes and dreams.'
Her dolls aren't just bought for children, though. 'I've sold to parents who have lost children and they say it's a reminder of what their child was like. That's wonderful. Schools, hospitals and universities have also bought them and I think this will help educate children. They say ignorance is bliss, but the more we teach about Down's syndrome, the more receptive and understanding children will be towards others with the condition.'
Maria Campas, from Muswell Hill, London, couldn't agree more. She was initially distraught when, eight years ago, her daughter Victoria was diagnosed with Down's syndrome, just minutes after being born. But later Maria and her husband Richard Davis, both photographers, vowed to end the stigma attached to the condition and set up the London branch of the Down's Syndrome Association.
She says: 'Two years ago on a trip to Brazil, I came across a Down's syndrome doll and bought it for Victoria. She loved her other dolls at home but I thought having a doll that looked just like her would make her realise that she wasn't so different after all. She loves the doll. She's called her Clara and she always plays with her as well as her normal dolls.'
Maria believes such toys should be in the play areas of schools and hospitals to help normalise the condition and challenge people's perception of it. She says: 'We had a naive perception early on that children with Down's didn't develop or walk properly and didn't look clean and fresh. It's just not the case. Victoria's in mainstream school, she goes to ballet classes and gymnastics and although she's a bit slower to learn than the other kids, she's thriving. But I strongly feel that introducing the disability dolls into lots of places would make a huge difference to how society accepts those with Down's syndrome. If they were as used to seeing such dolls, perhaps people wouldn't be so shocked when they encounter a child like Victoria. Perhaps they wouldn't stare so much in the street. They need to understand that just because they look different, Down's syndrome kids can communicate and play like any other child and many of them do really well at school and in life now.'
Carol Boys, chief executive of the Down's Syndrome Association, also believes they can be positive, but warns buyers to be careful as the ranges vary in quality and accuracy.
'Anything that helps to "normalise" Down's syndrome and promote inclusivity has to be a good thing,' she says. 'If the Down's syndrome dolls give joy to those with the condition and their siblings, we fully support them.'
But not everyone agrees. There have been so many offensive comments posted on Helga Parks' down syndromedolls.com website, she has been forced to post a disclaimer on it. Helga sells around 2,000 dolls a year at £25 each as far afield as the UK, Australia and Saudi Arabia. Her new venture, Chemo Friends, are hairless dolls with a catheter port for children undergoing cancer treatment.
'This just reeks of a bad joke,' says one comment on the website.
Emma Moorcroft, from Abbots Langley, Herts, thought the same thing when she first saw the dolls. The 31-year-old's daughter Sian, five, suffers from a rare condition called intermediate (Type II) spinal muscular atrophy, and will never walk because she does not have enough muscle. As well as being concerned that the toys emphasise her daughter's difference from other children, she was also concerned with their appearance.
Emma says: ' Sian loves her toys, so when I first heard about a disability doll I thought it was a great idea. I imagined they would be trendy little dolls, like her Barbies, only perhaps with a fantastic snazzy pink wheelchair. But when I actually saw them I was shocked by how terrifying they look. In fact, they are so offensive they are the last thing I would actually give her to play with. They look so abnormal — not at all appealing, pretty or trendy. Sian is already very image-conscious and loves wearing fashionable clothes. But these dolls are ugly with old-fashioned clothes, so Sian wouldn't relate to that at all. Instead, they would single her out as different and make her disability stand out more than it does already.'
Sara Kelsoe, 23, has similar concerns but believes if the dolls were brought up to date, they could work. Her son Cieran, three, contracted meningitis two years ago and had to have both his legs and some fingers amputated.
'These dolls look disturbing and somewhat sinister,' says Sara, from Northwich, Cheshire. 'But it would be fantastic if Action Man could take his legs off at night when he went to bed and put them on the next morning ready to conquer the world. That is the reality of Cieran's life — he wears prosthetic legs but like many boys, he dreams of fighting baddies and playing football. It would be a great way of telling him that despite having no legs, there is nothing he won't be able to do.'
So are these 'disabled dolls' a force for good, or well-intentioned folly? It's a question which bitterly divides thousands of parents of disabled children — and as they become more widely available, the controversy will only grow.
22.07.2008
All news:
FREEDOM DRIVE
New ENIL EC member from Serbia
Center for Independent Living Serbia OSI at the Serbia-EU Forum
FREEDOM DRIVE 2011
DPI Europe
STUDY VISIT TO SLOVENIA
Step by step to the project
International Day of Persons with Disabilities, 3 December 2011
The right for work for PWDs
Development of Nis municipalities
A Place for Us
"The steps on the path of development" project
DISABLED TO KEEP FIGHTING FOR BETTER EU AIR SERVICES
Capacity building of CSOs for social services
Study visit to Budapest
CIL Serbia celebrated 15 years of work
Second seminar in Mataruska banja
Disability Convention Receives 100th Ratification
ROUND TABLE
Workers With Disabilities: An Untapped Resource
PRO LIBRIS
A PLACE FOR US
Law for social protection
TRIBUNE "EDUCATION FOR ALL"
PLACE FOR US
Kampaign for Inclusive Education
EU RATIFIED CRPD
Good finish of 2010
THE BEST POSSIBLE NEW YEAR WISH COME TRUE
Advocacy for PA service in Novi Beograd
Comissioner for equality protection
International Day of Persons with Disability
Summer School
Public transport in Belgrade
REGIONAL ROUND TABLE DEBATE
The Invisibles: disabled people in Britain
Organisations of Civil Society as service providers in social protection area
Mexico in Debt to the Disabled
Fourth workshop on CRPD
SERBIAN CANDIDATE IN UN COMMITTEE
Virtual Career and Education Day expands regionally!
Center for employment of persons with disability
LEGAL HELP TO FAMILIES OF CHILDREN WITH DISABILITY
New initiative in Bor
CIL Activities
Promotion of project "Support to independent living of persons with disability in Serbia"
Special Advisor for International Disability Rights
Third workshop on monitoring and implementation CRPD in Serbia
Second workshop on monitoring and implementation CRPD in Serbia
Educating Students with Disabilities: Some Say It's Not Worth It
Workshop on monitoring and implementation CRPD in Serbia
HUMAN CAMERA
INFORMATION BULLETIN - European Court of Human Rights upholds the right to vote of persons with disabilities
European Call for Protest: Inclusion - "Being there from the start"! 05 May, 2010
European Day of Solidarity between Generations, 29 April 2010 - ENIL
Rights and reality: disabled people's experiences of accessing goods and services
ENIL calls for an end to Death by Social Indifference
Four more countries ratify CRPD
Disability Awareness in Action Newsletter
SEMINAR IN NIKSIC, MONTENEGRO
CIL in Belgrade too
We have our lives back
JOBS FOR ALL
MD persons continue hunger strike
Call for 140 financial support for 140 students with disability
Council of Europe calls for deinstitutionalisation of children with disabilities
NOTHING ABOUT US WITHOUT US: THE EUROPEAN PARLIAMENT DRIVES FORWARD DISABILITY RIGHTS
"Incredible stories of invisible lives" exhibition in Uzice
Draft of Law on Social Protection
30 years United Nations Convention on the Elimination of All Forms of Discrimination against Women
Opening Conference of the European Year for Combating Poverty and Social Exclusion,
The sky's the limit for disabled athletes in Serbia
CRPD Ratifications reach 76
Round table "Development the advocacy capacities of organisations of persons with disability in Serbia"
With Parthership Towards Development
FREE OUR PEOPLE NOW!
COMMEMORATING THE INTERNATIONAL DAY FOR THE ELIMINATION OF VIOLENCE AGAINST WOMEN
Center for Disease Control and Prevention, USA
Persons with disability in politic life everywhere
ENIL has 777 members in Facebook
Disability and policy
"Love and Kindness" Fund
New ratifications
Women with disability
"A Midnight Summer Dream"
Court Cases filed in the Name of Persons with Disability
Freedom Drive 2009 - Demands
INFORMATION FOR PEOPLE WITH DISABILITIES ABOUT H1N1 VIRUS
My world has changed – two stories in one
European Citizen Award
Not just a pretty Facebook
First deaf Member of Parliament is sworn in
Letter to Prime Minister Cvetkovic
PA Service in Leskovac too
International Day of Persons with Disabilities - 3 December 2009
MIDWAY
New TV broadcast
Malta: MOTE - My Opinion My Vote
Access to persons with disability
"CLOSER TOGETHER" PROJECT
SERBIA RATIFIED UN CONVENTION
Court case dealing with UN COnvention in Germany
Europe Day
Convention sign-ups
WHY SHOULD EUROPE INCREASE THE MATERNITY LEAVE?
Learning disability genes found
Poland: Disabled People Excluded from EU Elections
International Autism Day
Coucil for persons with disability
My right to be healthy
NEW RATIFICATION
International Day of Rare Diseases
PERSONAL ASSISTANCE BILLS
Disability Equality: Promoting Positive Attitudes
SERVICE IN JAGODINA
White House launched a new website today and disability issues are highlighted under the Agenda heading
Conference on Cooperation for Improvement of Disability Policy in Serbia
Workshhop on CRPD
First Committee of Experts on Disability Rights Convention Elected
GREAT SUPPORT TO ANTONIJEVIC FAMILY
Parking for everyone
Electoral rights for PWDs in Albania
Petition
The ways of integration
Finding a College That Suits Students "With Special Needs"
Another silver medal for Serbia
Paralympic silver
The Annual march for Disabled Visibility in Madrid
Good Practise/Bad Practice
UN Convention on the Rights of Persons with Disabilities (CRPD)
Free our People!
All... but not retard.
European Day of Disabled People 2008
Parents' fury at 'Down's Syndrome dolls'
Eurobarometer on discrimination
Less sex, less fun
Coming Soon, a Braille Silver Dollar
Roads to integration
Disability proves no barrier to Olympic inclusion
Media and Disability
Media and disability
Bishop
Are there any changes in preparations for Paraolympics?
U.N Issues Stamps to Commemorate Disability Treaty
Beijing 'sorry' for offending disabled
Government unveils new package for disabled children
China Sets Gold Standard in Offending Disabled
Smederevo Coalition
Way to Independence
On Empowerment
Assistive Technologies
Press Conference
Wishes could come true
Seminar on reforms of social protection system
National Conference on Gender Equality
Mobility International Seeks Young Adults
Wal-Mart settles with applicant with disability [USA]
First Contestant with a Disability to Compete for Miss USA Title
INFO - CENTER
INACCESSIBILITY IS DISCRIMINATION!
UN Convention on PWDs rights
Conference on National strategy for Youth
Bits and pieces from Slovenija
Meeting with Bozidar Djelic
Focus group "Social services for PWDs"
SHARE SEE Grantee Training
Make a date
It's Okay to Stare... Then Engage a Question!
Sombor hosted workshop "sex, gender, disability"
Dancing Beyond Disability
Seminar HUMAN BEING AND ITS ENVIRONMENT
Project From Alternative to Standardisation
The regional group of experts in social service provision for people with disabilities
Youth Regional conference
Are we going to Europe?
Disability Guide to Disneyland Paris
POI Conference "From cause to the result: New approaches towards disability"
Open Letter to the Government, Members of National Assembly Competent Institutions and Policy Makers
Centre plan for disabled actors
An Autistic Dream
MEETING ON DISABILITY ISSUES IN SERBIA
A PARAGIDM SHIFT FROM 'CHARITY' TO 'RIGHTS AND DIGNITY'
Transport benefits
New Visa rules
Disabled rights champion honoured
Map of the World
Serbia is going to sign UN CRPD
WORKSHOP IN CAIRO
Seminar on Women with Disabilities
Adaptation of living environment for Persons with Disabilities
Program "Contact Organisations from the Civil Society"
Community Living for Disabled People Must Be Made a Priority
Celebrating 3rd December
Celebrating the 3rd December 2007
FILM FESTIVAL OBSERVING 3 DECEMBER
National Umbrella Organisation mark 3rd of December
ENDING OF SHARE SEE TRAINING PROGRAM
SHARE SEE IV MODULE – NISKA BANJA
IMPORTANT DAYS TO CELEBRATE
To Ministry of Labor and Social Policy
SHARE SEE training in Predejane
Recognising the Rights of Girls and Women with Disabilities
SHARE SEE IV MODULE IN SMEDEREVO
Creation the Local Plans of Actions in Disability Area
SHARE SEE IV MODULE – BELGRADE
TODAY IS THE DAY OF UN
Goodbye mouse hello voice controls
Elena Pecaric
Award
AWARENESS RISING